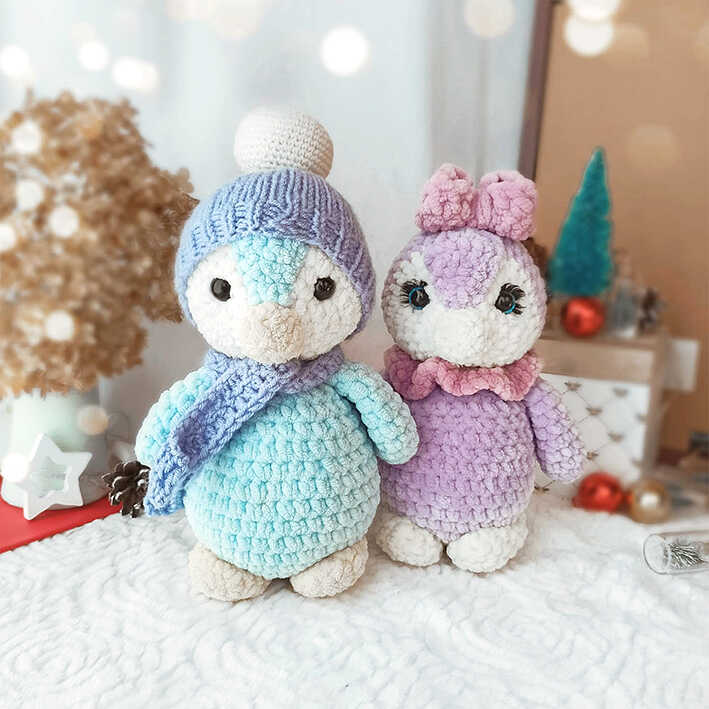 Cute Penguin Amigurumi Crochet Free Pattern
Materials
Himalaya dolphin baby
Hook 4.5mm
Eyes 12mm
Height 20 cm
Abbreviations
MR: Amigurumi Magic ring
sc : Single Crochet
inc : Increase
dec : Decrease
tr : Triple Crochet/ Treble Crochet
st: Stitch
dc : Double Crochet
hdc: Half Double Crochet
slst : Slip Stitch
ch : Chain
..in : make increase into same stitch as many as the number which is given in front of "inc" abbreviation (exp; 3inc, 4inc..).
FLO : Crochet into front loops only
BLO : Crochet into back loops only
Head
Starting with the color of the nose (yellow)
1Rnd: 4 sc in MR
2Rnd: inc*4 = 8 sc
3Rnd: inc, 7 sc = 9 sc
Cut the yarn and connect the yarn in the color of the muzzle (white)
4Rnd: inc*9 = 18 sc
5Rnd: (2 sc, inc)*6 = 24 sc
6Rnd: (3 sc, inc)*6 = 30 sc
7Rnd: (4 sc, inc)*6 = 36 sc
8Rnd: 36 sc
We insert the eyes in rows 6-7 at a distance of 10sc.
Cut the yarn and connect the yarn in the color of the head (blue / purple). Do not forget to fill with filler.
9Rnd: 36 sc We crochet this row for the "back"
Side of the loop: 15 sc for two sides, 6 sc for the front, 15 sc for two sides
10- 12Rnd: 36 sc (3 rows)
13Rnd: (4 sc, dec)*6 = 30 sc
14Rnd: (3 sc, dec)*6 = 24 sc
15Rnd: (2 sc, dec)*6 = 18 sc
16Rnd: (1 sc, dec)*6 = 12 sc
17Rnd: dec*6 = 6 sc
Cut the yarn. Add filler and shape into a circle, pull the hole and hide the yarn.
Strip
1Rnd: For the "front" side of the 6th loop of white, crochet and crochet 6 sc
2Rnd: turn, ch and 6sc
ЗRnd: turn, 6 sc
4Rnd: turn, 5 sc
5Rnd: turn, 4 sc
6Rnd: turn, 3 sc
7-8Rnd: turn, 2 sc
Cut the yarn, leaving a long end with which to sew the strip to the head.
Feet
1Rnd: 6 sc in MR
2Rnd: inc*6 = 12 sc
3-10Rnd: 12 sc (8 rows)
11Rnd: (1 sc, dec)*4 = 8 sc
12Rnd: dec*4 and close crocheting.
We do not stuff paws
Wings
1Rnd: 6 sc in MR
2Rnd: inc*6 = 12 sc
ЗRnd: (inc, 5 sc)*2 = 14 sc
4-9Rnd: 14 sc (6 rows)
10Rnd: (2 sc, dec)*3, 2 sc = 11 sc
11Rnd: (1 sc, dec)*3, 2 sc = 8 sc
Do not fill the wings with filler.
Fold in half and crochet together 4sc
Body
1Rnd: 6 sc in MR
2Rnd: inc*6 = 12 sc
ЗRnd: (1 sc, inc)*6 = 18 sc
4Rnd: (2 sc, inc)*6 = 24 sc
5Rnd: (3 sc, inc)*6 = 30 sc
6Rnd: (4 sc, inc)*6 = 36 sc
7- 11Rnd: 36 sc (5 rows)
12Rnd: (4 sc, dec)*6 = 30 sc
13Rnd: 30 sc
14Rnd: (3 sc, dec)*6 = 24 sc
15Rnd: 24 sc
16Rnd: (2 sc, dec)*6 = 18 sc
17Rnd: (1 sc, dec)*5, 3sc = 13 sc
18 row and crochet wings: 4 sc with wing, 3 sc, 4 sc with wing, 2 sc = 13sc
make 1slst to close the body neatly. Fill with filler
Collar
crochet by the "front" neck side
1Rnd: inc*13 = 26 sc
2Rnd: (1 sc, inc)*1З = 39 sc
3Rnd: 39 sc
Sew on the paws
Bow tie
1Rnd: 64 ch
2Rnd: 4th loop from the hook tr*60
3Rnd: Similarly on the reverse side
More Amigurumi Penguin İdeas