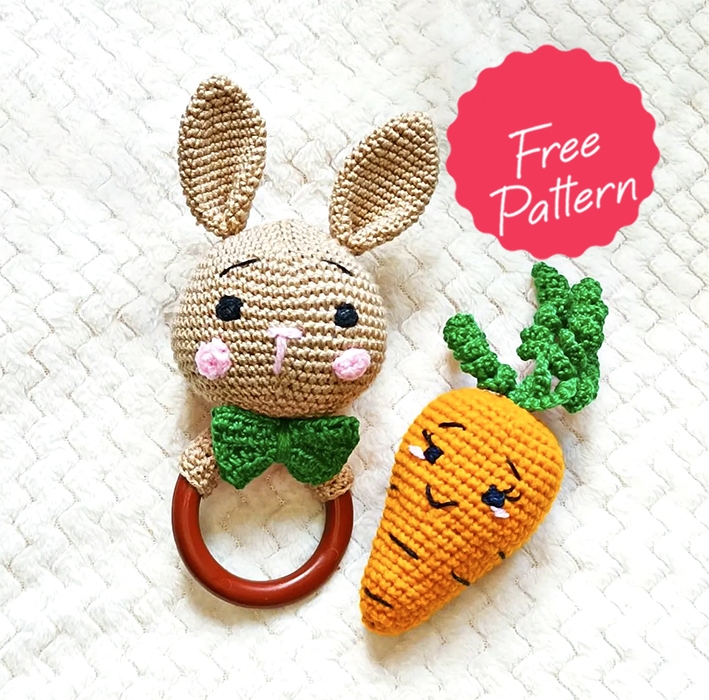 Crochet Rattle Amigurumi Free Pattern
Materials
Cotton yarn
2.5mm crochet hook
Stuffing
Scissors
Ring
Yarn needle
Abbreviations
MR: Amigurumi Magic ring
sc : Single Crochet
inc : Increase
dec : Decrease
tr : Triple Crochet/ Treble Crochet
st: Stitch

dc : Double Crochet
hdc: Half Double Crochet
slst : Slip Stitch
ch : Chain
..in : make increase into same stitch as many as the number which is given in front of "inc" abbreviation (exp; 3inc, 4inc..).
FLO : Crochet into front loops only
BLO : Crochet into back loops only
Head:
R1: Mr(6)
R2: 6inc (12)
R3: (1sc,inc) (18)
R4: (2sc,inc) (24)
R5: (3sc,inc) (30)
R6: (4sc,inc) (36)
R7: (5sc,inc) (42)
R8: (6sc,inc) (48)
R9: (7sc,inc) (54)
R10: (8sc,inc) (60)
R11-R18: 60
R19: (8sc,dec) (54)
R20: (7sc,dec) (48)
R21: (6sc,dec) (42)
R22: (5sc,dec) (36)
R23: (4sc,dec) (30)
R24: (3sc,dec) (24)
R25: (2sc,dec) (18)
R26: (1sc,dec) (12)
R27: (6dec) (6)
Ears (make 2)
R1: Mr(6)
R2: (sc,inc)*3 (9)
R3: (2sc,inc)*3 (12)
R4: (3sc,inc)*3 (15)
R5: (4sc,inc)*3 (18)
R6: (5sc,inc)*3 (21)
R7-R17: (21)
Cover of ring:
ch 11
R1: SC in each stitch across
R2: ch1 turn, SC in each stitch across
R3-R11: ch1,turn SC in each stitch across
Bow Tie:
Ch10
R1: SC, hdc in each stitch across
R2: ch1 turn, hdc in each sts across
R3-R8: ch1, turn hdc in each stitch across

Checks (make 2 with pink yarn)
Mr(6),slst leave long tail for sewing.
CARROT
Materials and tools
Cotton yarn
2.5mm crochet hook
Stuffing
scissors
yarn needle
Body
Orange yarn
R1: Mr (6)
R2: 06 inc (12)
R3: (12)
R4: (sc,inc)(18)
R5:-R7: (18)
R8: (2sc,inc)(24)
R9-R11: (24)
R12: (3sc,inc) (30)
R13: 30
R14: (4sc,inc) (36)
R15-24 : (36)
R25: (4sc dec) (30)
R26: (3sc,dec) (24)
R27: (2sc,dec) (18)
R28: (SC,dec) (12)
R29: 6 dec (6)
Hair:
Green color
27ch
3 SC in each stitch across
Repeat that 3 more times fix it on the top of the head.
Add the eyes and the lignes with black yarn.
More Amigurumi Rattle İdeas