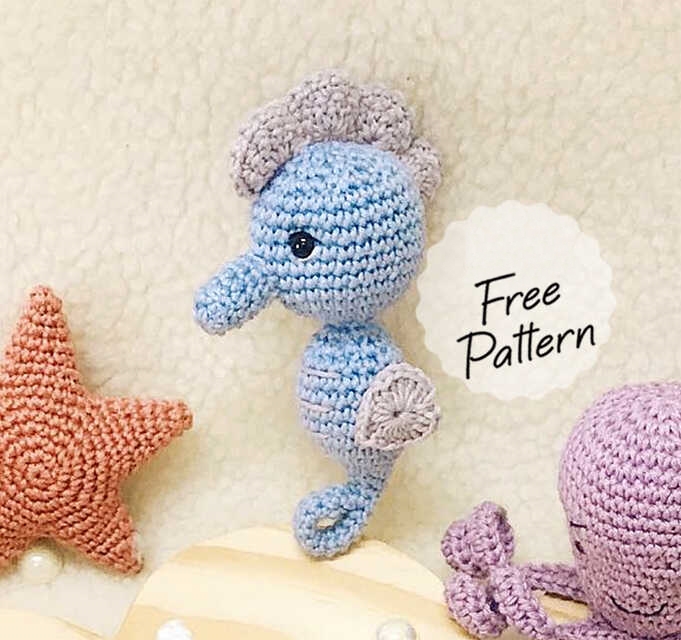 Cute Seahorse Amigurumi Crochet Free Pattern
Materials
• Amigurumi thread in colors 2927 (aquarium) and 8008 (quarry)
• Black embroidery thread
• 2.2 mm needle
• Eyes with safety lock n. 7
• Acrylic fiber (filler)
• Fine needle for upholstery
Abbreviations
MR – magic ring
sc – single crochet
BLO – Back loop only
inc– increase
dec– decrease
ch – chain
hdc – half double crochet
dc – double crochet
Difficulty level: easy
Head And Body
Use the blue wire (aquarium)
Rnd 1. 4 sc in the MR
Rnd 2. 1 inc, 1 scx 2 – 6 sc
Rnd 3-13. 6 sc
Rnd 14. 2 sc, 1 inc x 2-8 sc
Rnd 15. 3 sc, 1 inc x 2 – 10 sc
Rnd 16. 1 inc, 4 sc x 2 – 12 sc
Rnd 17. 3 sc. (1 inc, 1 sc) x 3, 3 sc – 15 sc
Rnd 18. 3 sc. (1 inc, 2 sc) x 3,3 sc – 18 sc
Rnd 19. 3 sc, (1 inc, 3 sc x 3), 3 sc – 21 sc
Rnd 20-24. 1 sc about each st – 21 sc
Rnd 19. 1 sc, 1 dec x 8 – 16 sc
Rnd 20-24. 1 sc about each pt – 16 sc, 1 BLO
Rnd 25. 3 sc, 1 dec (x 3) – 18 sc
Rnd 26. 1 sc, 1 dec (x 6) – 12 sc
Rnd 27. 1 sc, 1 dec (x 4) – 8 sc
Rnd 28. 8 sc
Rnd 29. 8 inc – 16 sc
Rnd 30. 1 sc, 1 inc x 8 – 24 sc
Rnd 31. 2 sc, 1 inc x 8 – 32 sc
Rnd 32-39. 32 sc
Add the filling little by little while you crochet.
Rnd 40. 2 sc, 1 dec (x8) – 24 sc
Rnd 41. 1 sc, 1 dec x 8 – 15 sc
Rnd 42. 8 dec – 8 sc
Inverted magic ring closure.
Optional: Make the expression on the face, squinting eyes and border with black embroidery floss, eyelashes and eyebrows. Place the eyes between rows 36 and 37 with 6 visible dots between them.
We crochet the part of the nose of the amigurumi pattern. Crocheted with blue yarn. If you want, you can choose red or black thread.
Muzzle
Let's now work only on the front head straps.
Rnd 1. 6 sc in the MR
Rnd 2. 1 sc, 1 inc x 3-9 sc
Rnd 3. 9 sc en FLO (only on the back straps)
Rnd 4-5. 9 sc
Bind off and leave a long thread to sew. Sew between the eighth and the tenth vein of the head, in the middle of the eyes.
We crochet the fins of the amigurumi seahorse. Lilac yarn is preferred. You can change the thread color if you want.
Head Fin
Make with gray wire (quarry)
Make 21 small drops.
From the third, make: 5 pieces in the same ch, skip 1 stitch, 1 sc. do this sequence to the end. Make ch 1, turn the piece and make a lace stitch (1 sc, 1 ch) until the end of the flap. Bind off and leave a long thread. Sew in the center of the head, from the second Veira above the eyes, up to near the neck.
Side Fins
Do it twice, with the gray thread:
1 MR, and inside it: ch 3, 4 dc, 4 hdc, 1 ch, 1 dc, 1 ch, 4 hdc, 4 dc, 3 ch and fasten with sc in the center. Close the morning (the shape is very similar to a heart) and sew the sides of the body.
Optional: Embroider 3 lines with gray thread on the seahorse's belly, leaving a space of 2 Veas between each of them.
More Amigurumi Seahorse İdeas