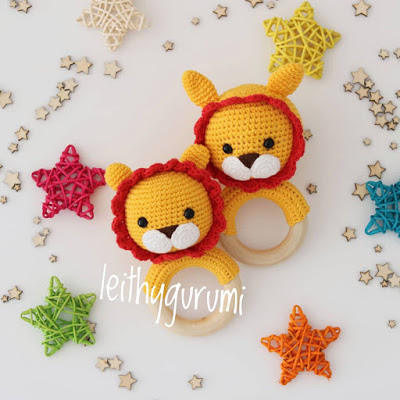 Amigurumi Rattle Free Pattern
Materials
8 mm safety eyes
Yarnart jeans
Rattle
2 no crochet hook
Head
Start with yellow yarn
1. 6sc in magic ring (6)
2. 6 inc (12)
3. (1sc, 1inc)*6 (18)
4. (2sc, 1inc)*6 (24)
5. (3sc, 1inc)*6 (30)
6. (4sc, 1inc)*6 (36)
7. (5sc, 1inc)*6 (42)
8. (6sc, 1inc)*6 (48)
9. (7sc, 1inc)*6 (54)
10. -20. 54sc
Put the safety eyes between rows 14 – rows 15 at the disctance 7sc (safety eyes 8mm)
11. (7sc, 1dec)*6 (48)
12. (6sc, 1dec)*6 (42)
13. (5sc, 1dec)*6 (36)
14. (4sc, 1dec)*6 (30)
15. (3sc, 1dec)*6 (24)
16. (2sc, 1dec)*6 (18)
17. (1sc, 1dec)*6 (12)
18. 6dec
Ears (Make 2)
Start with yellow yarn
1. 6sc in magic ring (6)
2. 6inc (12)
3. – 6. 12sc

Lion's Mane
Start with red yarn
Make a chain around the head and start second chain
Make (1sc, skip 1 stitch, 5dc in stitch, skip 1 stitch, 1sc) repeat the end.
Ring Circumference
Start with yellow yarn
Make 31 chain and then second chain.1. 30sc, and then return, make 1 chain2. – 11. 30sc and then return, make 1 chain

Mouth (Make 2)
Start with white yarn
1. 6sc in magic ring (6)
2. 6inc (12)
3. (1sc, 1inc)*6 (18)
More Amigurumi Rattle Ideas